Nature's elements begin their attack as soon as your vehicle rolls off the assembly line. Rail dust, road salt, acid rain, industrial fallout, moisture and salt water all work to shorten the life of your vehicle, corroding the body, weakening the structure and deteriorating the appearance. The result is a drastically reduced trade-in or re-sale value.
Platinum Electronic Rust Protection Modules*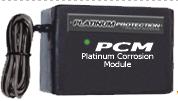 We are proud to announce that the latest technology in automotive rust prevention has now arrived in Guelph. The Platinum electronic corrosion module combines both Impressed Current and Sacrificial Anode Technology, which far exceeds the limitations of Cathodic Protection systems. Using a small amount of current from your vehicle's battery the Platinum PCM causes negatively charged "free electrons" to be drawn to the Sacrificial Anodes by means of Impressed Current. In simple terms, this remarkable technology causes corrosion to occur on the Anodes instead of elsewhere on your vehicle.
Benefits of Platinum Electronic Corrosion Modules:
Platinum Protection Warranty is superior to that of any other manufacturers warranty.
Platinum Rust Modules are a clean and efficient way to protect your vehicle from corrosion without harming your environment
Proves complete protection against rust without the need for additional annual conventional spray-on rust coatings
Helps preserve the appearance of your automobile and longevity
Affordable and transferable from vehicle to vehicle. Perfect for people who lease or when you want to sell your car
Quick and simple to install – no mess
Protects both the interior and exterior of the car – conventional rust proofing only protect the outside
Helps to control rust that has already started by preventing it from spreading
Suitable for new and used vehicles
The Sacrificial Anodes give customers visual proof that the system is working
Platinum Protection electronic rust inhibitor is the only system to successfully combine both Impressed Current and Sacrificial Anode technologies
No chemical odor or dripping
(Ask Dealer for Warranty Details)