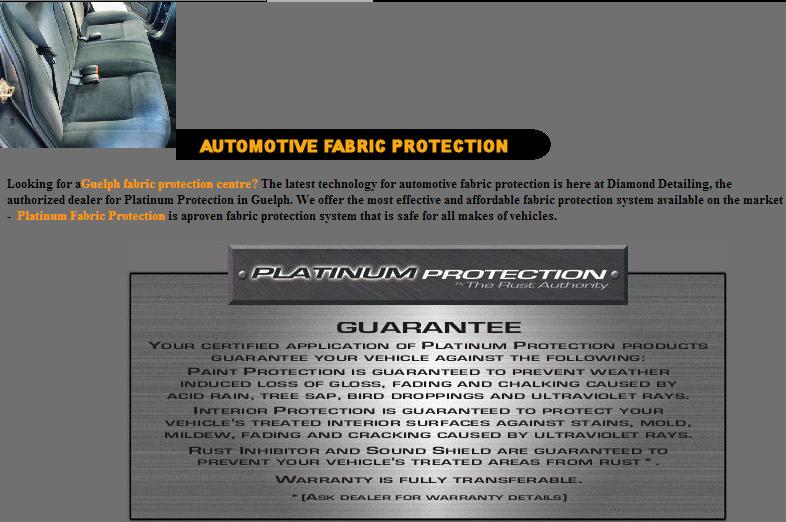 Platinum Fabric Protection*
Spills, stains and normal wear and tear are unavoidable, leading to the early aging of your vehicle's interior. Platinum Fabric Protection penetrates into each individual fibre creating an invisible barrier to repel spills, stains and UV fading.
Treated surfaces are resistant to ultraviolet colour fading, cracking, moisture absorption and mildew. Platinum retains the interior's natural texture and appearance, preserving the trade-in or re-sale value of your vehicle.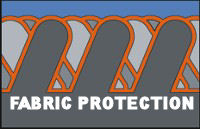 Diamond Detailing is proud to be the authorized dealer for the latest technology in automotive fabric protection in Guelph. See why high-end automobile dealerships and intelligent consumers prefer Platinum Fabric Protection as their automotive interior protection system.
Benefits of Platinum Fabric Protection:
Platinum Protection Warranty is superior to that of any other manufacturers warranty. 

The Platinum Fabric Protection Packageallows for easy clean-ups of automotive upholstery

Protects against permanent stains, fading, mildew and moisture absorption

Will not change the color or texture of your fabric upholstery

Penetrates each fiber creating an invisible barrier

Brings piece of mind to vehicle owners with children and pets

Helps preserve the appearance of your automobile and longevity

Affordable protection for your vehicle. Perfect for people who lease or to protect the re-sale value of a car

Quick and simple to apply – no mess!

Suitable for new and used vehicles

No chemical odor

Does not transfer to clothing

Safe on all fabric interiors

* (Ask Dealer for Warranty Details)